I hand-craft and hollow-build each rod to exacting standards, carefully producing a superb fishing instrument.
My rods are individually hand crafted from a single clum of bamboo, and every one of the 150+ steps of the rod building process is designed to maximize rod performance and appearance. None is more critical than my hollow scalloping process, where I remove the non-performing pithy center of the bamboo spline. Not only does this lighten the rod, but it also results in a livelier, faster-dampening rod. It also allows me to fine-tune the rod taper by varying the internal taper of the rod.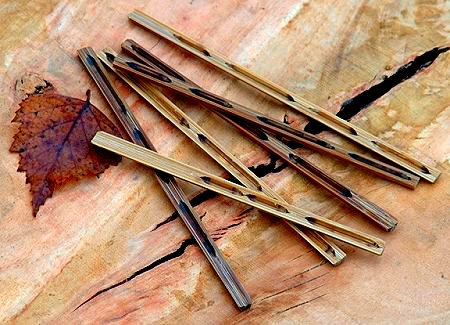 Each rod is double heat-tempered and straightened. I hand split each culm to keep the fibers intact. I carefully straighten and prep nodes, careful not to remove the power fibers at the surface. Many builders speed the rod building process by grinding away the nodes, which is fast, but removes power fibers and degrades rod performance.
My finished rods feature a warm, dark caramel colored cane

I use blued, truncated ferrules

My favorite grip is the tapered full wells (Powell style. Cigar grip optional)

Bronzed, Snake Brand guides and vintage Perfection-style strippers (agate option)

Slide band reels seats are used to keep rod weight down (screwlock available)

Pearsall's Gossamer silk wraps are spar varnished for a translucent finish
Please feel free to examine my rod catalog and to contact me with any question or comments. If you are unsure about which taper you want, or wish to discuss a different taper, simply e-mail me. I will get back to you as soon as possible.
Pricing
$3,200 for two-piece rods with two tips (2/2)
$3,500 for three-piece rods with two tips (3/2)
$3,800 for Companion taper (two butt sections & two tips)
Now that my waiting list has grown to several years, I must reserve the right to charge the current price for rods, regardless of when you placed your order. Before beginning work on your ordered rod, I'll advise you of the price.
Waiting List
I build rods on a first-ordered, first built basis. Due to demand, my waiting list has grown dramatically. Contact me for current delivery estimate times.
Jim Reams Bamboo Fly Rods
PO Box 685
Fall River Mills, CA 96028
530.336.6773
e-mail me