My rod catalog represents years of patiently building tapers, testing them on the water, and fine-tuning their actions.

Strongly influencing my work are the rods of E.C. Powell and Payne. Powell's pioneering work in semi-hollow building rods was genuis, and Payne rods are rightly famous for their casting and fishing qualities (and certainly for the integrity of their construction - most Paynes are still as straight as they day they were manufactured).
I believe that hollow scalloping a rod produces bamboo fly rods that cast with both power and delicacy, and fight fish with a stubborn resolve. Not only are hollow-built rods lighter than solid cane, they also dampen qucker and feel livelier. Plus, hollow scalloping allows me to create an internal taper in addition to the external taper. This allows me to fine-tune tapers in ways no solid builder could.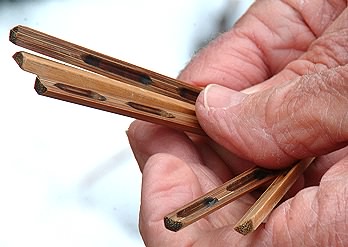 My rods undergo multiple heat tempering steps which gives them a rich, caramel color. My components are typically blued, and my wraps are clean and minimal (these are beautiful, but they're fishing rods and I don't want a lot of extra crap on them gumming up the works).
3 wt, 3/2 Smooth, medium slow (76-3-TT): Loads fully and at close range - perfect for delicate leaders at close range.
4 wt, 2/2 Medium (76-15): Buttery smooth, medium-action rod is ideal for long leaders - and great for presenting midge and mayfly imitations at all reasonable ranges. An excellent all-around short 4wt.
5 wt, 2/2 Parabolic design (76-23): Fast, powerful rod which feels light but still handles big bugs and big fish with aplomb.
3 wt, 2/2 Smooth, medium+: Fast becoming one of my most popular rods, this fishes beautifully - even in a little wind, and against big fish. One customer used it at a "secret" river to catch several 20+" brown trout. Great small fly rod.
5 wt, 2/2 Medium/light (96-8): Delicate enough for the most exacting presentation, yet it can still reach out to when needed.
5 wt, 2/2 Medium/fast, all-around taper (96-11): True medium fast taper that will do anything you ask of it - from Tricos at close range to Drakes across the river.
5 wt, 2/2 True Progressive (96-35): Based on the legendary Powell B-9 taper and one of the best all-around bamboo rods ever created. It almost casts for you.
5 wt, 3/2 Medium/fast (96-8): The perfect all-around travel rod - goes anywhere, casts any fly, and does so with no effort on the part of the caster.

4/5 wt, 2/2 Medium/fast (99-42): A wonderful, tippy dry fly rod and one of my best-selling designs. These long 4 and 5wt rods are testaments to what hollow building can really mean to a bamboo rod. Delicate yet never weak.
4 wt, 2/2 Medium (99-43): As above, but loads farther into the mid. In my opinion, this is the best all-around spring creek rod.
4 wt, 3/2 True Progressive (99-44): Similar to above rod but in a 3-piece design for traveling ease.
4 wt, 2/2 Medium (196-3-H): One of my newest tapers, and one that many customers consider their favorite all-around rod. Delicacy, strength and versatility in a 4wt format - no solid-built cane rod offers what this rod does. My best seller.
5 wt, 2/2 Medium (196-2-B): A wonderful, full-flexing 5wt that offers a lot of feedback and is a joy to cast. Versatile and eminently fishable.
5/6 wt, 2/2 Medium/Fast (196-1-N): Another best-seller. Perhaps the ultimate all-around rod for any situation - from midges to stoneflies.
7 wt (6 shooting head), 2/2 Fast (89-46): Strong Salmon and Steelhead rod in the West Coast tradition. Due to hollow-building, this surprisingly light rod fishes well all day long...
5 wt, 2/2 Fast (196-3-HCR): Two butt sections mate with two tips to create either a fast 8' rod, or a slightly slower 8.5' rod. A very, very fishable tribute to the Powell Companion rods.
A fine rod deserves a fine case - which is why we've added these US-made leather rod tubes to our catalog. Add one to your order for $340.